{category.name}
• Avon (860-470-3053) • Enfield (860-265-3886) • Great Barrington (413-528-4520) • Lee (413-243-2541) • North Adams (413-663-6600) • Pittsfield (413-443-5611) • Carr Paint - Springfield (413-266-8235)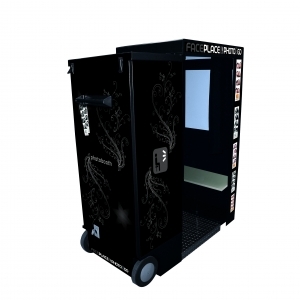 Manufacturer: Apple Industries
Model Number: FacePlace
Rent a Photo Booth to Throw a Legendary Event
Our Photo Booth Rental Option Captures Unforgettable Gatherings
How do party planners make their events worth attending? Although it's hard to please every guest, the best hosts know that giving people more options means they have more fun. Our FacePlace photo booth is the easiest way to customize any event experience and let people celebrate at their own pace.

Photo booths are tried-and-true accessories for weddings, school dances and company parties. They're also the perfect places for attendees to get group photos at Quinceaneras, bat mitzvahs and family reunions.
Plus, you can instantly upload your photos to social media like facebook and instagram. You can also order a DVD of all your photos.

Thanks to this portable model's built-in dolly, it's never been easier to customize a venue and make a party more memorable. Weighing in at 420 pounds, this booth makes the perfect stable location for epic poses, group selfies and themed costume pictures. With a generous 66-inch open width, it's easy to get everyone gathered close for a great shot
Please contact us for current pricing and availability.